Moving the boiler plant to make room for the new patient tower is one of the important projects happening right now on the Memorial Hospital campus.
Hospital boilers create high-pressure and low-pressure steam for sterilizing equipment, hot water, heating and humidification throughout the hospital as well as for cooking equipment in the kitchen. Heat is reclaimed through the boiler exhaust system, which helps the hospital save on energy costs.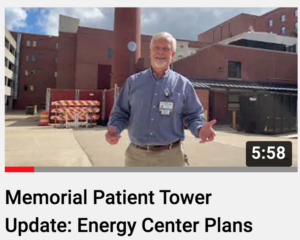 "The new Energy Center and the new boilers will have to be up and running prior to doing any demolition or taking anything out of service," said Tom Jordan, Director of Facilities and Grounds."That's going to be an important timeframe when all of that occurs. Once that happens and we've tested everything and made sure it's working in the new Energy Center, then everything here is ready to be taken out."
Tom takes us on a tour of the current boiler plant and explains what's in the pipeline for upgrading mechanical systems to prepare for the patient tower project.
"The whole Engineering Department is really excited about this," Tom said. "There are engineers who have worked here years and years ago who know this is happening, and they're very excited about it. This is going to make a huge difference in how this whole campus operates and how much more efficient the new Energy Center will be."
Watch the video tour: