SOUTH BEND – Beacon Health System leaders today broke ground on the new 10-story patient care tower on the campus of Memorial Hospital of South Bend. This transformational, once-in-a-generation project is designed to enrich the patient, family and visitor experience while meeting the growing healthcare needs of residents in our area for decades to come.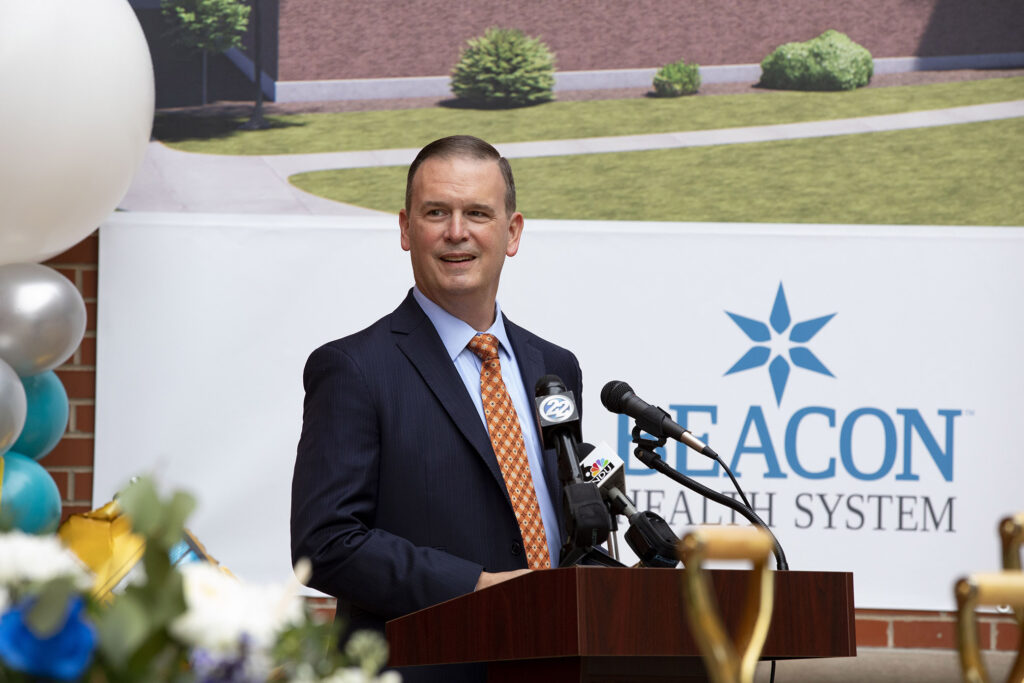 "We are raising the bar for inpatient care in our region and investing in our community with this historic initiative," said Larry Tracy, President of Memorial Hospital. "But this is more than brick and mortar; we are planning for the future of healthcare with this commitment to our patients and our clinical teams."
The $232 million tower project – the largest construction project in Memorial Hospital's 129-year history, will comprise 300,000 square feet and expand the number of adult acute care beds from 249 to 302. Included in the new tower will be an expanded Intensive Care Unit, new and enhanced technologies across the facility and larger patient rooms with comfortable, dedicated space for family and visitors.
Construction crews have been working on major enabling projects for nearly a year inside Memorial Hospital to create space for the new tower. The entire project is targeted for completion in late 2025 and occupancy of the new patient tower is anticipated in early 2026.
Beacon Health System initiated a master facility plan process in June 2019 to evaluate its inpatient bed tower. Physicians, clinicians and hospital staff helped define many of the details. The result is a project that will redefine and, in some cases, expand the space and facilities Memorial Hospital has available for adult acute care and adult critical care in the heart of downtown South Bend.
Designed by CannonDesign and constructed by Walsh Construction, the new patient tower is expected to create an estimated 500 new jobs in the community upon completion. To learn much more about the new patient tower, visit Community.beaconhealthsystem.org.
"Memorial and Beacon are not only laying a new foundation, are not only breaking ground on a new patient tower, they are publicly re-dedicating themselves to their mission of serving the health needs of our community with the highest quality of compassionate patient care," said Thomas Burish, PhD, Chair of the Beacon Health System Board of Directors.
ABOUT BEACON HEALTH SYSTEM
Beacon Health System is the largest, locally owned and operated non-profit health care system in the region. Beacon is our community's trusted partner in creating health and the majority provider of services to the underinsured and underserved. Beacon Children's Hospital, Beacon Granger Hospital, Community Hospital of Bremen, Elkhart General Hospital, Epworth Hospital, Franciscan Beacon Hospital, Memorial Hospital of South Bend, Three Rivers Health, Beacon Medical Group, Memorial Family Medicine Residency Program, Beacon Health Foundation and Beacon Health & Fitness are powered by nearly 8,000 associates and over 1,000 physicians and providers.