eacon Health System recently completed construction of a $4.8 million outpatient MRI Center at Beacon Granger Hospital. The 3,600-square-foot addition located on the west side of the hospital will provide patients improved access and convenience to MRI services.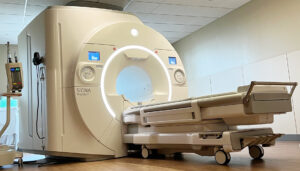 Patients can access the MRI Center from the hospital's main entrance at 3220 Beacon Parkway.
The new MRI services at Beacon Granger will provide advanced MRI scanning capabilities that benefit both patients and physicians. Patients will notice the wide-bore scanner provides more space while undergoing their scan. The system is designed to provide greater patient comfort by reducing claustrophobia and making procedure times shorter because of the high magnet strength offered by this new MRI.
Radiology Inc. continues to read scans performed at Beacon MRI centers.
"We decided to locate the MRI Center at Beacon Granger to offer our patients a convenient location in an outpatient setting," said Derek Taylor, Beacon's director of imaging services. "We are excited to offer state-of-the-art equipment in a space where our MRI technologists will deliver a high level of service that patients can count on."
Beacon also offers MRI services at Memorial Hospital, South Bend; Elkhart General Hospital, Elkhart; and at Memorial Lighthouse Imaging Center, 6901 N. Main St., Granger.
MRI services will also be available at the new Beacon Goshen Outpatient Center that is scheduled to open in August at 2222 Rieth Blvd., Goshen.