Memorial Hospital President Larry Tracy shared words of thanks and excitement today during a ribbon-cutting celebration to mark the completion of the renovation of the 6th Floor of the hospital.
Along with Memorial Hospital Chairman of the Board and Beacon Health System board member Peter Baranay, Memorial leadership, clinical and operational teams and project partners, Tracy took a moment to reflect on the "incredible journey" to get to this moment.
"This journey really started four years ago in June 2019, when we imagined the future of the delivery of acute care here within Beacon Health System and across the Michiana region," he said. "Our partners at CannonDesign and Walsh Construction and all the teams within Memorial have done a great job of partnering together to design spaces where we're going to take care of people for the next century."
Following a blessing for the teams and the unit by Memorial Chaplain Sarah Samson and ribbon cutting, attendees toured the new patient rooms.
The 6th Floor renovation is one of the major enabling projects for the construction of the new Patient Tower underway in the center of the hospital's campus. Patients on the 3rd floor of the Memorial Leighton Heart and Vascular Center will soon move to the new 6th floor. Then, that vacated floor will be renovated to become part of the expanded Intensive Care Unit in the new Patient Tower.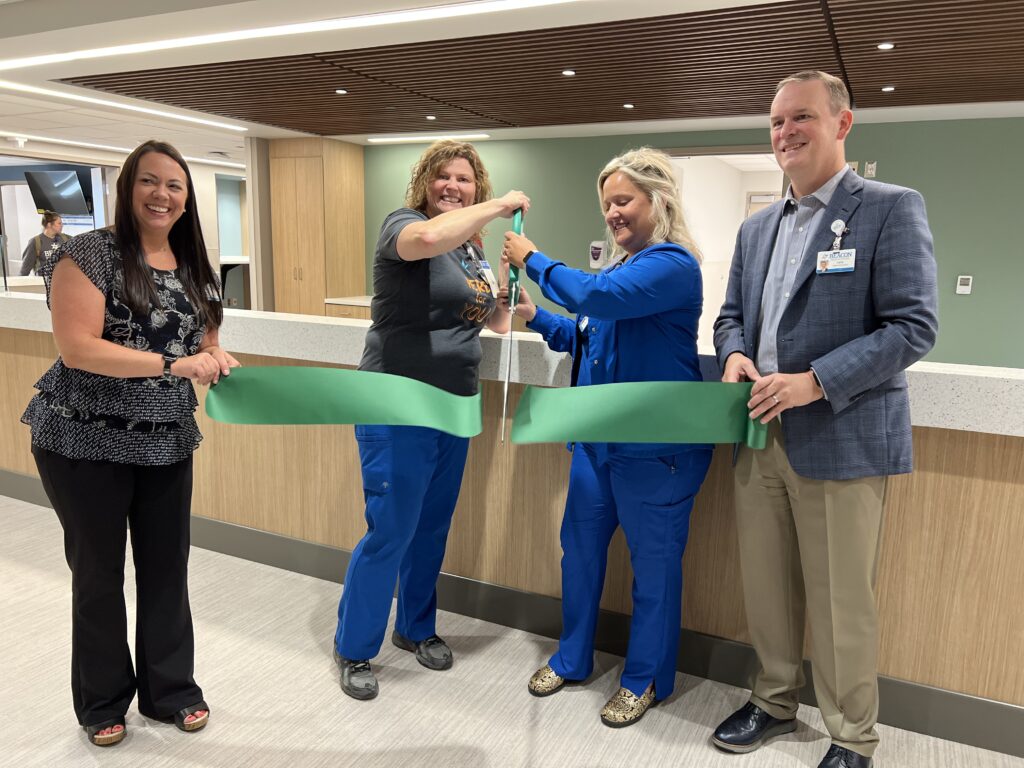 Tiffany Hischke, Manager of Patient Care Services, Cardiovascular Comprehensive Care Unit, said that while the acuity of patients will stay the same on the new floor — including caring for patients undergoing interventional cardiology procedures, cardiac catheterization, open-heart surgery and others — some new features will help further support patient and family care:
Quieter patient rooms with furniture to help make family members more comfortable during visits
Integrated ceiling lifts for help turning or moving patients
Built-in cabinets along the hallways for storing supplies within easy reach for staff
Hischke said the unit will also include three dialysis bays that can be used for patients coming from other units, too.
"It will be really nice for our patients coming from our telemetry floors because those patients can be monitored while they are off their floor," Hischke said.
Marie DeStefano, Director of Patient Care Services, Memorial Emergency Care Center/ICU/3HV, described the renovated floor as friendly and inviting.
"We're really excited. It's beautiful – it's quieter," DeStefano said. "If we get the honor to serve community members here, it's going to be a great space for them."
Additional 6th Floor highlights:
The floor includes 24 patient rooms with full telemetry monitoring capabilities. This allows the care team to closely and continuously monitor patients' vital signs such as heart rate and rhythm.
Each room has a wheelchair-accessible restroom and shower. The showers are curbless and include a bench seat and handheld shower head.